Sourav Joshi is a popular Indian vlogger and his age is 23 years who known for his famous YouTube channel "Sourav Joshi Vlogs" which he created on February 19, 2019 and Now in which, he has 20M subscribers.
As per Socialblade, Sourav's YouTube ranks 540th in terms of Social Blade rank, 202nd in terms of Subscriber rank, and 567th in terms of Video Views rank.
Even though he is also doing really great work on Instagram (4M followers).
He is a simple and friendly guy who loves to explore the nature. Take a look at the table of content to know more about Sourav Joshi and his lifestyle.
A Quick Overview of Saurav Joshi- Biography
Casual Name:
Sourav Joshi
Real Name:
Mohit Joshi is the real name of Sourav Joshi
Date of Birth (DOB):
08/Sep/1999
YouTube Channels Name:
Sourav Joshi Vlogs & Sourav Joshi Arts
Current Age (as in 2022):
23 years
Net worth:
Estimated income (INR 20 Crores)
Marital Status:
Unmarried
Birth Place:
Kausani District, Uttarakhand
Home Town:
Kausani District, Uttarakhand
Family Members:
1. Father (Harish Joshi Previously working as a carpenter)
2. Mother (Hema Joshi, housewife)
3. Three Younger brothers (Sahil Joshi, Piyush Joshi, Kunali)
4. Chacha & Chachi
5. Dada, Dadi
6. Orio (his cute pet dog)
Girlfriend:
He is single
Religion:
Hindu
Nationality
Indian
Where does Sourav Joshi Live:
Haldwani, Uttarakhand
The idol of Sourav Joshi:
Sandeep Maheshwari & Flying Beast (gaurav taneja)
Controversy of Sourav Joshi as a Vlogger
In 2022, a YouTuber named 'Neon Man' made a video in which he accused Sourav of being rude to his followers. The video was posted after another vlogger, 'Gora Vlogger,' claimed that Sourav did not greet him well when he went to meet him outside his house. Sourav responded to the video posted by Neon and claimed that Gora did not tell the whole story and tried to defame him. Sourav mentioned that he was taking his mother to the dentist when he met Gora Vlogger. Neon defended his video by saying that he was only doing his job. However, Sourav later deleted his comment on Neon's video.
In addition, another vlogger named Manoj Dey commented on Neon Man's video and shared that Sourav had been very rude to him as well. Manoj said that Sourav had blocked him immediately for using a controversial thumbnail for a video about Piyush, Sourav's brother, instead of asking him to remove it. These incidents led to controversy and criticism of Sourav's behavior. It is essential to remember that being respectful and polite to others is crucial, whether it is online or offline, and everyone should strive to be kind to one another.
Physical Stats of Saurav Joshi – Height | Weight | Age, and Hobbies
I have already discussed the age of Sourav, he is just 23 years old now. This table will help to give you the direct answers to all your questions related to Sourav Joshi age, height, weight and hobbies.
| | |
| --- | --- |
| Height (approximately): | 5'6″ Feet (167.64 cm) & (in meters: 1.68 m) |
| Weight: | 50-60 kg |
| Hair Colour: | Black |
| Eye Colour: | Black |
| Hobbies: | Travelling, Explore Nature and Loved animals (especially dogs) |
table of Sourav Joshi's physical stats
Monthly Income of Sourav Joshi from his YouTube Channel
At such a young age of 23 years, Sourav Joshi has succeeded in achieving a top-level position in his career. Among youngsters and childrens, Sourav Joshi has become the first choice of YouTubers. This is why he earned a large number of subscribers.
And, everybody knows that a huge YouTube subscribers means a very good watch time, that is directly connected with the YouTube income. Sourav Joshi Vlogs (YouTube channel of Saurav Joshi) getting millions of views everyday and on his daily vlog that is the reason, people are curious to know about Sourav joshi vlogs monthly YouTube income, and I have seen many times that people always search on the Internet for "what is the income of Sourav Joshi or how much sourav joshi vlogs earn from youtube?"
So, I decided to write a detailed post or blog on Sourav Joshi Vlogs monthly income from YouTube in 2022 or 2023. Well, it is obvious that we could only estimate the monthly earnings of Sourav because it's not 100% accurate as it will be the approximate value of the amount he is earning.
Yes! I am saying estimate earning because nobody can tell you the exact value he is getting with his YouTube channel. To find out the estimated earnings of any YouTube channel, there is a tool called "Social Blade" which can help you to analyze the earnings of any channel.
Social Blade Stats about Sourav Joshi Monthly Earnings
Using Social Blade, I'll show you how much monthly income Sourav Joshi is earning from his vlogs in 2023.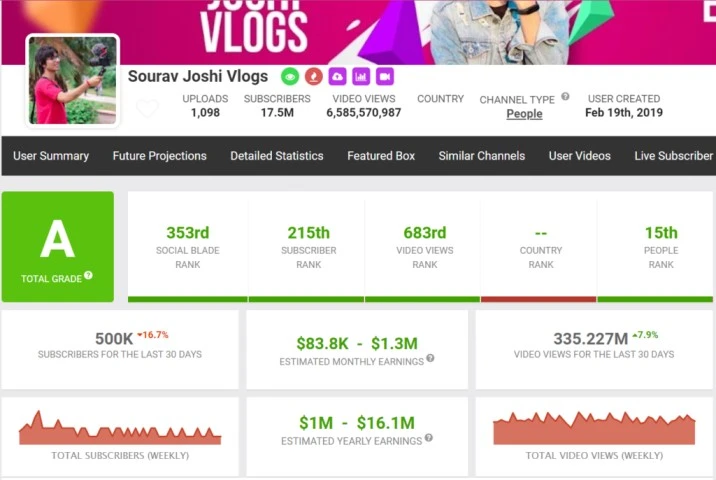 This is the estimated income ($83.8K – $1.3M) of Sourav Joshi in 2022 that he earned from his vlogs.
How Much Earning Saurav Joshi in Indian Rupees?
Although, we have discussed about the net worth of Sourav but the question is how much he is earning from his vlogs or sourav joshi vlogs monthly income in rupees, which I have already discussed earlier in the social blade section.
According to social blade, the monthly income of Sourav Joshi Vlogs is $83.8K – $1.3M which is approximately 67,71,638.00 in Indian Rupees.
Sourav Joshi Vlogs ki Monthly Income Kitni Hai
Sourav joshi vlogs ki estimated monthly income ($83.8K – $1.3M) hai jise ap bhe social blade ki help se check kar skte hai. Niche di gyi image me sourav ke pichle kuch months ki income dikhayi gayi hai jise ap dekh sakte hai –

Sourav Joshi Vlogs Net Worth and His Lifestyle in 2023
This is a frequent question that people are searching about Sourav, like, "What is the total net worth of Sourav Joshi in Indian rupees that he has made from his vlogs"?. People also want to know about his house, lifestyle and living standard.
Obviously, Sourav Joshi is earning a huge amount not only on YouTube but also from different sources like collaborations, advertisements, and making songs or music videos. According to online resources, the estimated net worth of Sourav Joshi is INR 20 crore.
He has three cars which are – Fortuner, Innova, and Mahindra THAR.
Career Details of Sourav Joshi
Now if we talk about Sourav Joshi's education or career, he couldn't perform well. His educational background was not really good but he prove himself as an artist. He has completed a degree course in Bachelor's Fine Arts where he acquired his sketch-making skills.
In the first long, he started posting his sketch designs on Facebook to promote. In July 2017, he launched a time-laps on his YouTube (Sourav Joshi Arts)of color pencils (Drawing 2000) that he designed. You can watch it below👇
He is a great artist of sketch making and he sketched many popular designs of some famous personalities & comic characters like – Ranveer Kapoor, Thanos, Virat Kohli, and so on. For more designs, you can watch the video below👇
As a YouTuber, he worked hard and never missed a single day to not upload the video, and from a single subscriber now in 2022, Saurav Joshi earned 20M subscribers which means a lot.
Summary
The complete biography of Sourav (Indian YouTuber & Social Media Influencer) where you got an information including lifestyle, songs, monthly income of Sourav Joshi Vlogs. If you think that we have missed something related to the topic, please tell us in the comment section below.
Frequently Asked Questions (FAQ's)
What is Sourav Joshi real name?
Mohit Joshi is the real name of Sourav Joshi, as he told himself in one of his Q&A video.
Why is Sourav Joshi famous?
He is famous because of his most subscribed YouTube channel in India.
Where did Sourav Joshi live?
He lives in Haldwani which is the largest city of Kumaon, Uttarakhand.
Who is India's No 1 daily Vlogger?
Sourav Joshi has became the no.1 vlogger in India due to his most subscribed YouTube channel or largest subscriber base.
When was Sourav Joshi Born?
Sourav Joshi born on 8th September 1999 in a small village of Kausani District, Uttarakhand.
What is Sourav Joshi Monthly Income?
Sourav Joshi estimated monthly income is $83.8K – $1.3M.